Career Opportunities
To apply for a position with Precision Door, please read the job listings below and select 'Apply' for the position best suited to your skills and experience.
Apply For A New Career With Precision Door Service Today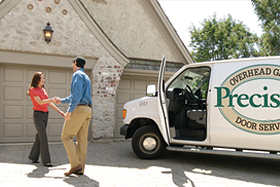 Reliable People
You'll work with people who have been well trained and care about their jobs and their customers.
Career-Orientated
We are looking to make an investment in career-oriented, permanent employees who want a better future for themselves and their families.
Industry-Standard Training and Safety
We provide second-to-none training for our technicians to ensure you'll be prepared to the job safely and correctly. We welcome applicants with no previous experience. We will train you to become a certified Precision Door technician.
Competitive Salaries & Benefits
We understand what it takes to raise a family. We offer high earning potential and benefits.
Work For An Industry Leader
Precision Door started in 1999, and is now America's leading Garage Door Repair company.
Office Warehouse Manager
Interacts with customers on a daily basis providing them information about service; supports office and business operations by providing administrative services; maintains warehouse and office systems.
Examples of Essential Functions:
Acts as primary point of contact for all commercial and residential technicians
Oversees the scheduling of new installations and service orders using electronic systems
Ensures the availability of appropriate doors and parts as needed to complete the job
Communicates with field staff on a daily basis via phone and/or text regarding schedule changes; contacts customers as needed to communicate schedule and appointment times
Ensures that the appropriate equipment is ordered and scheduling with the customer occurs
Creates and maintains technician and installer work schedules taking into account any scheduled time off
Balances daily scheduling to ensure technicians are effectively utilized and the customers are appropriately served
Prepares weekly and monthly reports for Owners and other Managers
Provides excellent customer service to all customers, on the phone and in person; resolves customer complaints involving any type of issue, ensuring the needs of the customer and the interests of the company are met
Supports the sales staff by contacting customers to obtain commitment from customers to close sale; follows up with customers regarding provided quotes to help ensure sales goals are met
Safely operates equipment and adheres to all the safety rules; maintains company vehicles in good condition; ensures necessary repairs are made so the vehicle is being safely operated
Resolves administrative problems by coordinating preparations of reports, analyzing data, and identifying solutions
Ensures operation of equipment by completing preventative maintenance requirements, calling for repairs, maintaining equipment inventories, and evaluating new equipment and techniques
Maintains inventory by checking stock to determine inventory level, anticipating needed supplies, placing and expediting orders for supplies, and verifying receipt of supplies
Welcomes/receives visitors to the office
Serves as part of the senior management team in the operation of the company
Assists the accounting department in ensuring invoice entries are complete and payments have been received and posted, may be responsible for the collection and data entry of daily financial data; may process and generate month end financial reports and statements
Minimum Qualifications:
High school diploma or GED; supplemented by three or more years of warehouse and inventory management, office administrative experience, preferably in a service industry, including some lead worker or supervisory experience; experience providing direct customer service and dealing with customer complaints required; or an equivalent combination of education, certification, training, and/or experience.
Must have and maintain a valid Arkansas driver's license and excellent driving record. MUST PASS CRIMINAL BACKGROUND CHECK.
Physical Requirements:
Depending on functional area of assignment, tasks involve the periodic performance of moderately physically demanding work, usually involving lifting, carrying, pushing and/or pulling of moderately heavy objects and materials (up to 75 pounds). Tasks that require moving of objects of significant weight require the assistance of another person and/or use of proper techniques and moving equipment. Tasks may involve some climbing, stooping, kneeling, crouching, or crawling.
Depending on functional area of assignment, tasks involve the periodic ability to exert light physical effort in sedentary to light work, which may involve some lifting, carrying, pushing and/or pulling of objects and material of light weight (up to 20 pounds). Tasks may involve extended periods of time sitting at a workstation and utilizing a keyboard.
Compensation and Benefits:
Compensation commensurate with training and experience starting low to mid 40's. Benefits provided are Health Insurance including health, vision, and dental. A 401k with matching funds, paid time off, uniforms provided, various technician appreciation events.